Another Internet Blackout In Syria During Exams
Published (updated: ) in Shutdown. Tags: exams, shutdown, Syria.
This blog post was originally authored by Ali Sibai and posted on the SMEX website. It is reposted here with permission.
In recent years, internet outages in Syria have become a familiar, dystopian tradition during the Official High School Exams. The Syrian government has unplugged the internet during exams every year since 2016, plunging the country into total internet darkness.
This month, more than 250,000 students will be undergoing the national exams in Syria, during which the internet will be shut down completely to limit cheating, according to the official stance of the Ministry of Education (MoE).
The Minister of Education Darem Al-Tabbaa' confirmed that the internet will be suspended only during the High School exams for this year. The Minister justified the network shutdown on grounds of avoiding the risk of questions getting leaked ahead of time. He also added that this year the MoE, with the help of the Ministry of Telecommunication, used encryption to send the examination questions for printing. Al-Tabbaa' believes that encryption will prevent examination questions from getting leaked, adding that if this approach proves successful, the Ministry will end internet shutdowns during Official examinations in the future.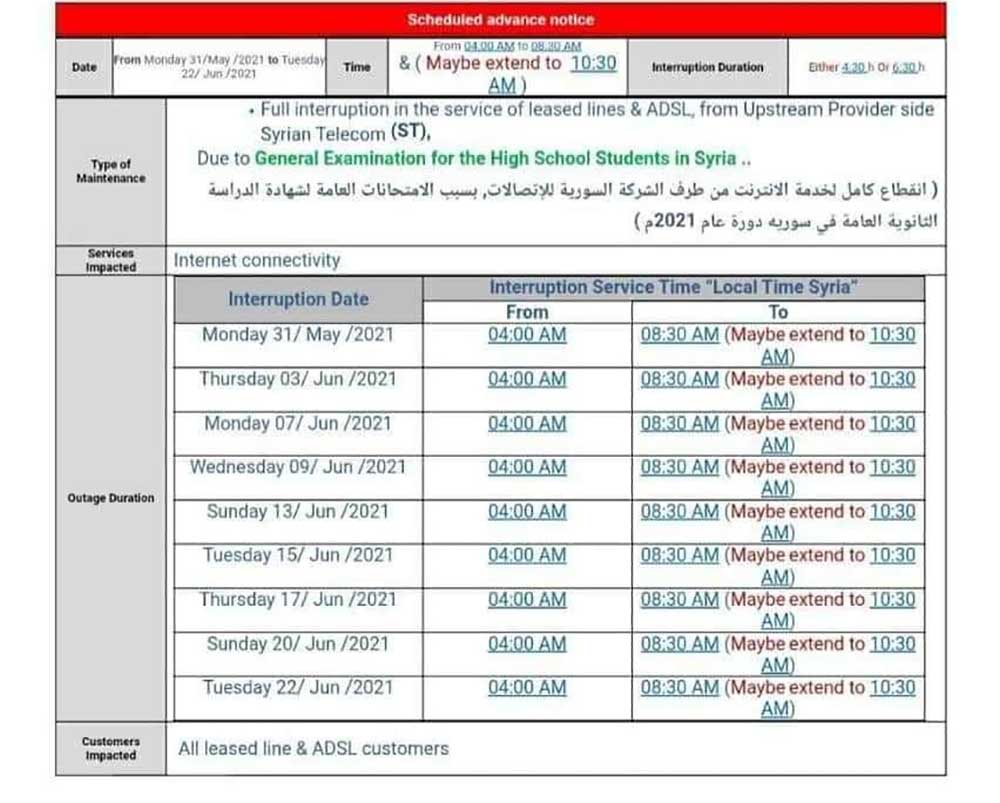 Exam Schedule (Image via zarkachat.com)
Within the same context, the schedule of internet shutdown was circulated across Syrian social media groups and pages. The schedule indicated that the shutdown will start on May 31, 2021, and end on June 22, 2021. According to the circulated schedule, on specific exam dates, the internet disruption will start at 04:00 and end at 08:30 local time (UTC+3), although the outage might be extended until 10:30.
Day 1
On May 31, 2021, Kentik , a cloud-based Network traffic intelligence Company, was able to observe the internet disruption in Syria which lasted for 4.5 hours.
Data from Internet Outage Detection and Analysis – IODA, a real-time internet monitor, confirms the outage over the Syrian network. The outage started around 01:00 UTC /04:00 local time, and started to recover around 05:20 UTC / 08:20 local time.
Day 2
As scheduled, on Thursday, June 3rd, 2021, a total internet shutdown was detected over the Syrian network. According to data from IODA, the shutdown started at 01:10 UTC /04:10 local time and was operating again at 05:25 UTC / 08:25 local time, also as per schedule.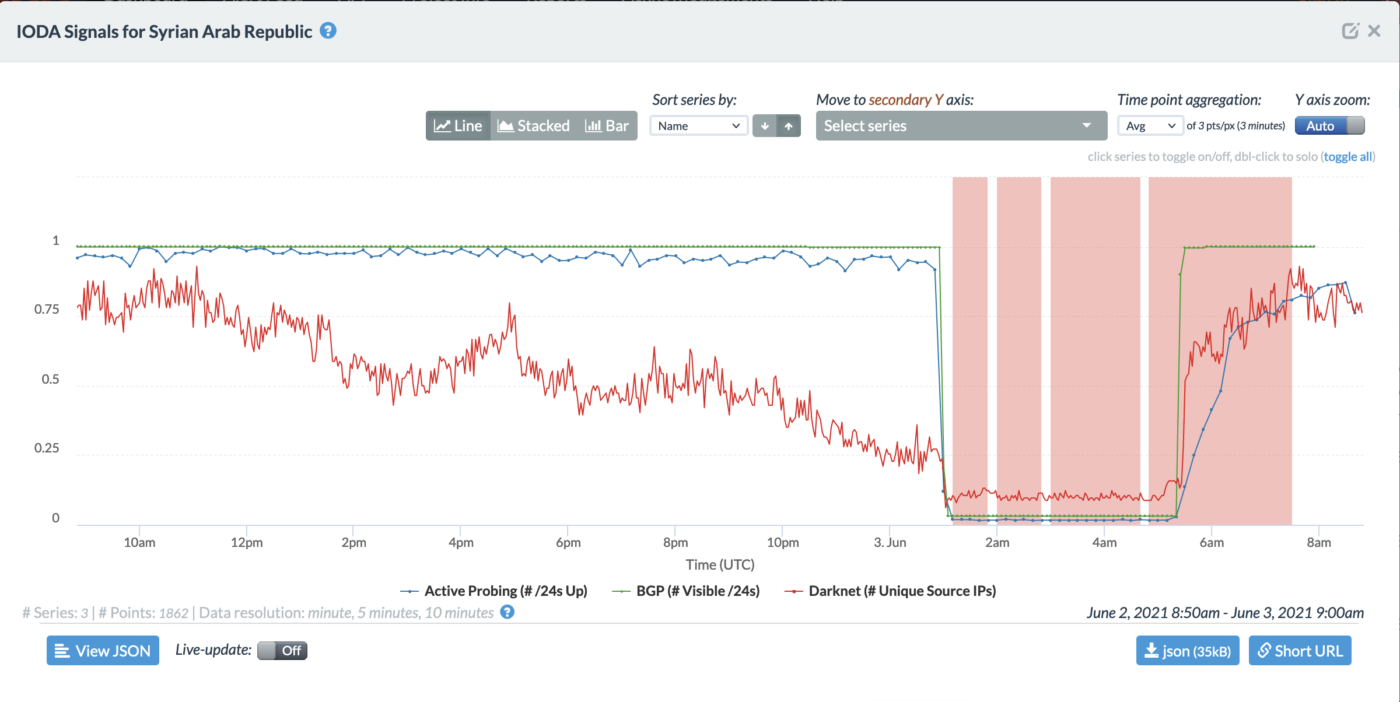 Looking Back At Internet Shutdown In 2020
In 2020, the High School official examination was held at the last third of August. The exams were scheduled between August 22 and August 31, 2020.
At the time, the Syrian Telecom announced on its Facebook page that as requested by the Ministry of Education, there will be an internet outage during exams (August 22-31), except Friday, August 28, 2020.
The announcement stated that on Sunday, August 23, 2020, there will be no internet between 04:00 and 08:00 local time. Yet, for the remaining examination days, the internet will be out between 04:00 and 09:00 local time.
According to Oracle's Internet Intelligence—now defunct—the blackout lasted for five and a half hours each day.
Based on IODA's data, the Syrian network has witnessed daily internet shutdowns starting August 22, 2020, till August 31, 2020. As indicated by the Syrian Telecom, there was no outage on Friday, August 28, 2020.
Below is a detailed schedule of the shutdown (based on IODA data)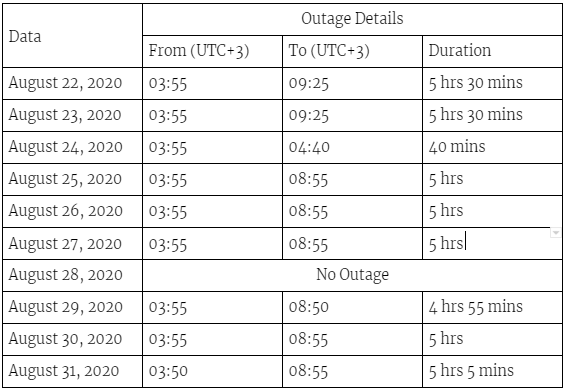 Additionally, the outage showed up in Facebook's newly released Internet Disruptions section in the transparency report.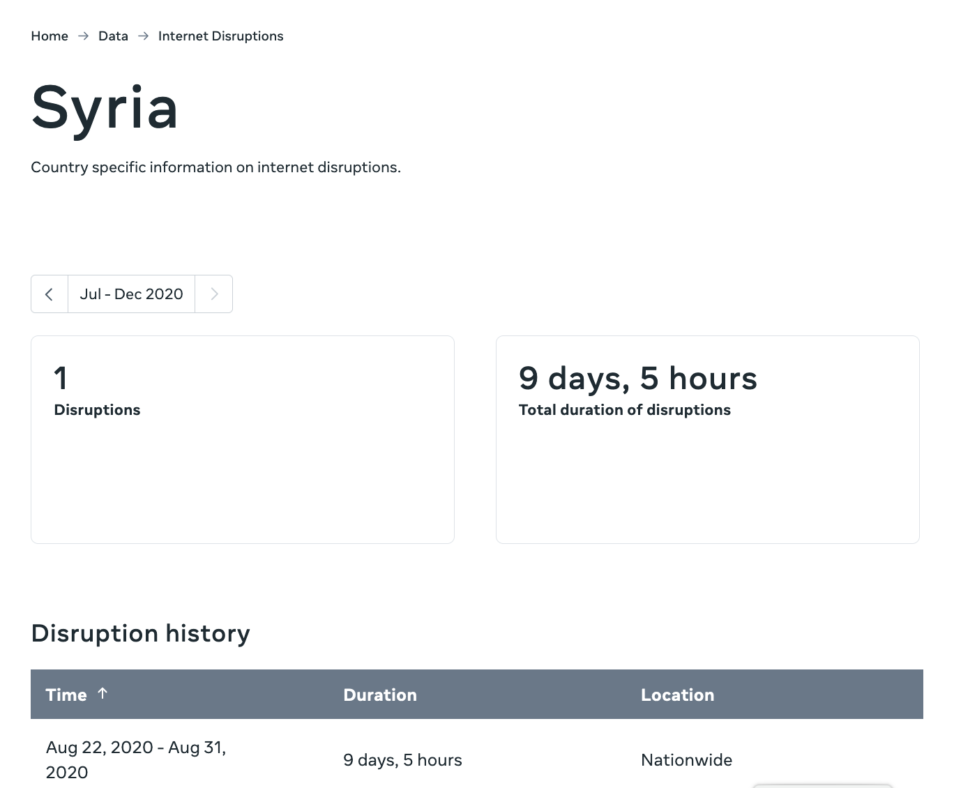 According to Facebook's internet disruption data, there was a nationwide internet disruption in Syria between August 22, 2020, and August 31, 2020, for a duration of 9 days and 5 hours. Facebook stated that it monitored the availability of its services worldwide, and reported on identified, temporary internet disruptions that impacted the availability of Facebook products.
However, this data does not indicate whether the disruption was continuous for the entire 9 days, and it does not provide any specific data about the services affected (i.e. Facebook, Messenger, WhatsApp, or Instagram).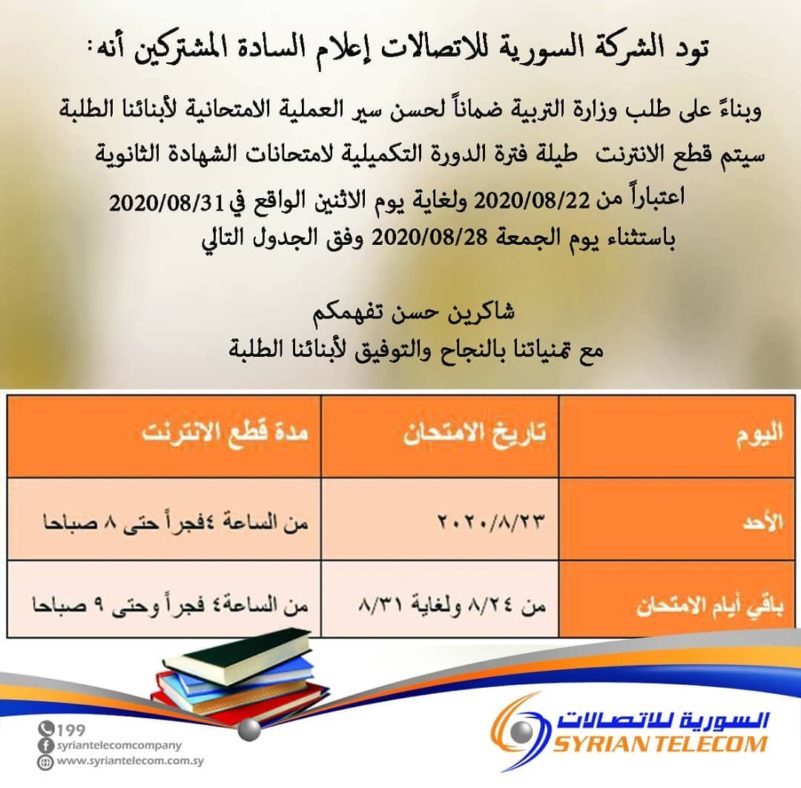 Governments in the MENA region regularly censor websites and shutdown the internet during elections and protests, and in recent years they have more commonly used this tactic during exams.
We call on governments across the region to stop shutting down the internet at all times. The national economies incur huge economic losses as a result of the internet shutdowns. More importantly, these blackouts inhibit free expression and allow government forces committing human rights violations without evidence or recordings against them.
Use the hashtag #NoExamShutdown in your tweets and posts to report internet shutdowns in your country and demand your government protect an open internet—connectivity is your human right.
If you or someone you know is negatively affected by a shutdown, share your story about the experience of dealing with an Internet shutdown.
By working together to raise awareness about potential shutdowns before they happen, we want to pressure and lobby governments against using the internet as a tool of control. We hope you'll join us.